Granola is great for a quick healthy breakfast. But, if you look closely at their nutrition labels, many shop-bought granolas are really high in sugar. If the cereal in question is made of nutritious ingredients (oats and almonds, for example, contain substantial levels of essential minerals, and dried apricots are very high in vitamin A) then a bit of sugar shouldn't rule out what is otherwise a nutritious breakfast. Some sugars even contain nutrients, like maple syrup, which has high levels of manganese and vitamin B2.
But other sugars bring nothing but calories to the party, leaving you with a poor nutrient:sugar ratio. This imbalance is one of the reasons we started looking for a homemade granola recipe, since commercial foodmakers tend to choose the non-nutritious sugars and fats. Doing it yourself also means you can make adaptions, like using gluten-free oats, or leaving out things you don't like (we're looking at you, dried papaya chunks).
This recipe from BBC Good Food is a maple syrup sweetened granola recipe. It uses only maple syrup, honey and raisins to sweeten the mix, and we found this absolutely sweet enough. The flavour combination of toasted nuts and seeds with maple and honey is delicious without leaving you wanting more. Well… that's not entirely true when it's fresh out of the oven. We recommend filling up on a healthy snack or meal before making this, else you might find yourself harvesting freshly baked granola chunks straight off the baking sheet!
We chose rapeseed oil for the "vegetable oil", as it's safe to cook at high temperatures, as well as being low in saturated fat, and high in all three omega oils, which can help reduce cholesterol. It also adds a nice nutty flavour when cooked.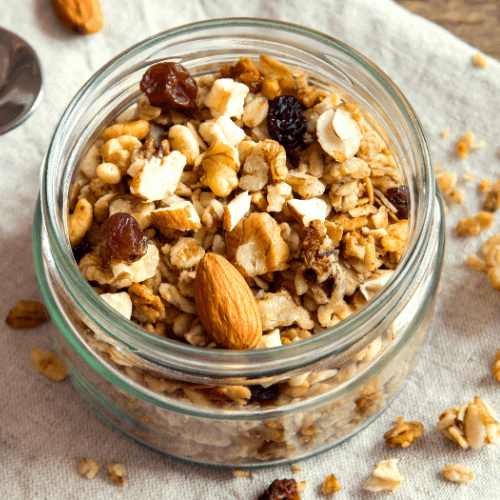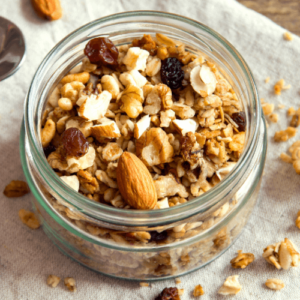 We've made this a few times now, and successful recipe adaptations have included:
~ leaving out the coconut (the result is still delicious and sweet)
~ adding a tablespoon full of mixed spice or allspice at the mixing stage (we did this when there was no coconut – the two together might taste a bit odd, so experiment with small quantities first!)
~ replacing the sesame seeds with flax seeds (they're silkier in texture, and contain a different ratio of essential nutrients – next time we'll try mixing the two)
~ substituting a proportion of the fruit with dried apricots, chopped up to the size of raisins (the dark brown unsulphured kind add a fantastic rich toffee flavour)
~ substituting chopped hazelnuts for the flaked almonds
~ using gluten free oats instead of the potentially contaminated sort, for a completely gluten free granola.
So far we've used raisins instead of dried berries, every time we've made this. We had loads to use up, for a start, and the berries tend to be more expensive. They can also be quite dry – raisins are nice and squishy. But berries can have a better nutrient:sugar ratio than raisins – it depends which ones you choose.
The only adaptation we tried that didn't work was soaking the dried fruit in water. The recipe method says to add the fruit 15 minutes into the cooking time, which produces a lovely granola; there was no real reason to try anything different. But pre-soaked dried fruit is a delicious and filling addition to porridge or yoghurt, so we thought it might come out plump and juicy in our baked granola. We stirred the soaked fruit in with all the other ingredients, and cooked it for the full 25 minutes. It came out kind of plump, but the granola itself was sticky, and refused to go crunchy, even after cooling down. Normally it goes nicely toasted and crunchy, so we think this was because of the added water and steam produced by the soaked fruit. Next time, we'll go back to the official method. Or we'll try making the granola without fruit, and add the soaked fruit when we serve it up. We wouldn't pile soaked fruit on top of fruity granola, as that would make it too sugary…
Serve with your choice of milk or yoghurt! Either way, it's a great healthy breakfast recipe!
Without the coconut, this recipe produces about 860g of granola.