A report in 2008 showed that in the UK alone, we consumed approximately 70 million cups a day! [1].
The negative effects that coffee has on our bodies are well known, but are you aware that there are some real health benefits from that little caffeine fix?
Coffee is packed with antioxidants which can have great benefits to your health. Some of these benefits include:
Increased mental performance and memory.
The caffeine in a cup of coffee can help to improve your brains performance on concentration and attention. This can be very helpful during those post-lunch dips at the office.
There are also studies which suggest that drinking coffee can help memory and also help towards preventing Alzheimer's disease [2]. Another study that used mice with the disease, showed that caffeine significantly can decrease abnormal levels of a protein that is linked with developing Alzheimer's [3].
Lowering the risk of type 2 diabetes.
There are many studies that show a link between a moderate intake of coffee and a reduced risk of developing type 2 diabetes. [4]
Reduced risk in some cancers.
Some studies look at the effects of caffeine intake through coffee and some types of cancers. These studies have shown that people who drink between 2-5 cups of coffee a day had a slightly lower risk of a type of liver cancer, endometrial cancer and Basal cell carcinoma, which is the most common but least dangerous type of skin cancer. [5]
Getting you up and about in the work place.
To put it simply, if you are based in an office type environment, chances are you are sat for a majority of the day. Sitting for prolonged periods of time can slow down your metabolism, which can affect the way your body deals with fats and regulates blood sugars. By getting up and walking around the office to fetch an aromatic cup of coffee,  you will be giving your body a much needed break from sitting and getting your body to 'wake-up' and lower your risk of type 2 diabetes. [6]
Don't drink too much!
With all these benefits that coffee has, it's important to remember that too much can lead to addiction, sleep deprivation and some nasty headaches, so moderation is the key! [7]
Do you qualify for free coffee?
If your Monday mornings tend to start of a bit groggy and you fancy grabbing a coffee on the way to work, as an Aviva client you could grab one for free! Aviva have introduced 'My Aviva app' where you can claim a free regular hot drink every Monday from Caffè Nero until 31 December 2015. Perfect for getting you geared up for that busy week.  [8].
Equally if you're a member of Vitality Health, you can link your 'My Starbucks Rewards' account to Vitality Health and you will be treated to a free drink every week!  [9].
If you're interested in grabbing yourself a free cup of coffee or private medical insurance we would love to hear from you!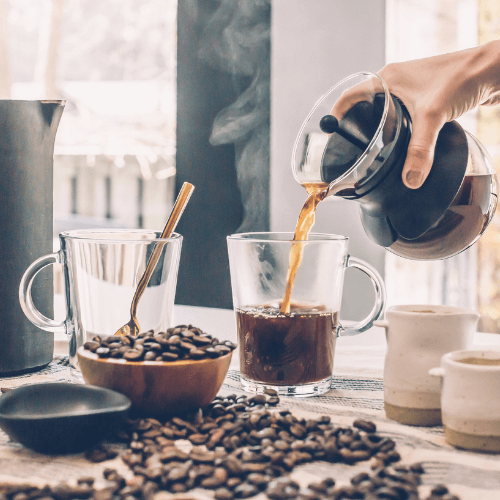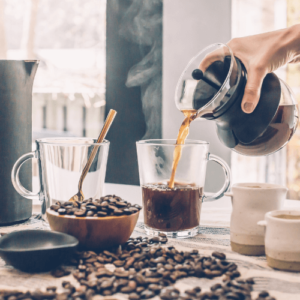 Sources:
[1] http://www.britishcoffeeassociation.org/about_coffee/coffee_facts/
[2] http://www.caffeineinformer.com/bad-memory-drink-more-caffeine
[3] http://www.eurekalert.org/pub_releases/2009-07/uosf-crm070109.php
[4] http://coffeeandhealth.org/topic-overview/coffee-and-non-communicable-diseases/
[5] http://www.stopcancerfund.org/p-skin-cancer/good-news-for-coffee-drinkers-the-health-benefits-outweigh-the-risks-for-most-people/
[6] http://www.nhs.uk/livewell/fitness/pages/sitting-and-sedentary-behaviour-are-bad-for-your-health.aspx
[7] http://www.aarp.org/health/healthy-living/info-10-2013/coffee-for-health.html
[8] http://www.aviva.co.uk/myaviva-app/terms-and-conditions.html
[9] http://www.pruhealth.co.uk/vitality/partners/starbucks/