"Calculating insurance premiums is all about risk and probability. We grow more likely – statistically speaking – to experience illness as we get older.
The probability that we'll make a claim on our health insurance therefore increases along with our age. The older we get, the higher our monthly health insurance premiums are likely to become – whichever provider we've chosen.
The trick to keeping your private medical insurance costs down as time goes on is to choose the best policy for your individual needs, and never assume that you can't switch providers without losing cover for pre-existing conditions.
There isn't a single best private medical insurance for over 50s; the pros and cons of each policy depend on your personal circumstances, so talk through your options with an unbiased health insurance adviser before you commit to anything.
Working with a health insurance broker should cost you nothing, and because the options are so diverse – and "best value" is so dependent on the individual's health and age – it's impossible to encode everyone's best option into an impersonal online medical insurance comparison.
Ways to minimise any increase in health insurance premiums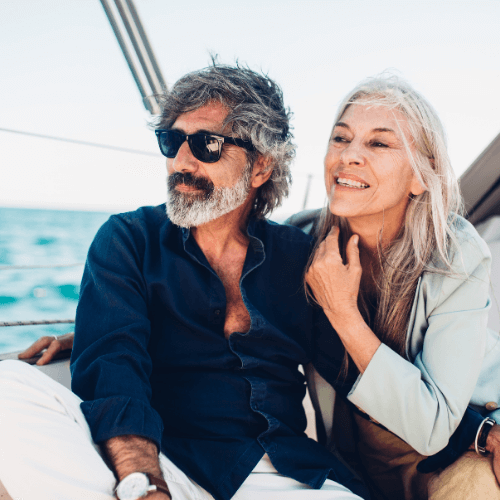 1. Ask if you can get away from a "no claims" policy
In line with our increased chances of getting ill and making a claim, any "no claims" discount on a private medical policy tends to decrease over time. The no claims method is used by many health insurance companies to recalculate individual health insurance premiums each year; the more claims you've made, the smaller your discount becomes, hence your premiums costing more.
This will hopefully change with the introduction of new regulations proposed by the FCA, and there are several health insurers who don't factor "no claims" into the calculation. Instead, they work out premiums using what's known as the "community rated" method. Customers are grouped together and premiums are calculated based on everyone in the group, so you'll see the same level of increase whether you're a "claimer" or a "non-claimer".
Community rated policies work out well if you're more likely to be claiming. However, premiums still increase to take into account the claims of the group as a whole, so if you're very healthy, you'll be paying for other people's claims without getting as much benefit yourself. However, this is the way that insurance policies have traditionally worked, and people tend to like the consistent pricing that comes with the community rated method.
2. Enquire about policies that restrict you to specific hospitals, or that allow the insurer to direct you to a hospital and/or consultant for your care.
The starting point for most private medical insurance policies is to offer treatment at the vast majority of hospitals, but there are often cost-saving options that limit you to a particular selection of hospitals, or that allow the insurer to direct you for your care, this is often known as a 'guided option'. These options can typically save as much as 30-40%, and thus offer excellent value if the hospital locations are convenient for you.
Bupa, Axa, Aviva and Vitality all offer guided options across elements of their product range, whilst certain policies including Axa's "inSpire" product, for example, only uses Spire hospitals, likewise, Aviva's "trust care" option, and The Exeter's 'Essential' option, also provide access to a smaller list of hospitals in return for a discount.
3. Take the "6 week Option"
Offered by several providers, this cost-saving option means that you will be treated privately if the NHS has a waiting list of six weeks or more. You only need confirmation of a longer wait time in order to arrange private treatment at your convenience, so you don't have to wait until the six weeks have passed. Conversely, if the NHS can offer you treatment within the window, you will be treated as an NHS patient. This option can reduce policy costs by up to 25%, and it doesn't affect the diagnosis process, which is always handled privately at your convenience
4. Could you live with reduced or no out outpatient cover?
A cost-effective health insurance option that means you'll still have all the benefits of private in-patient care, but must use the NHS (or pay yourself) for any outpatient care, such as consultations and diagnostic tests – although it's worth noting that MRI, CT & PET scans would normally be covered in full, as would cancer care, even if you reduced or removed out-patient cover.
5. Be wary of couples' health insurance policies
These usually cost less than two separate individual health insurance policies – at first. Once one of you claims, it will affect the no-claims discount for both of you, so often works out more expensive than two separate policies as time goes on. You'll probably be better off choosing separate policies, each one right for the individual.
6. Switch policies to get a better deal – even with a pre-existing condition
If you're looking for pre-existing condition health insurance for over 50s, or if your existing health insurance premiums seem to be getting a bit pricey, you may well save by switching to another provider, who'll be keen to get your business. Many people don't do this because they think they'll lose cover for pre-existing conditions, but more often than not this isn't the case. Read more about switching providers with a pre-existing condition here.
7. Stay in touch with your health insurance adviser
It's not just you who's maturing – the insurance industry is changing, too, with new regulations and innovative products appearing each year, as consumer rights continue to be prioritised and health insurance providers vie for customer loyalty. As a health insurance broker, we review our client's health insurance policies each year as standard which lets you choose your best value option at the click of a button, helping you find affordable health insurance.