This month's Star Juice is… The Late Summer Lover

Late Summer is such a wonderful time of year, as we still have berries to eat and in addition there are delicious juicy pears, in season from September through October, which means we get to enjoy this pear-fect green juice.
Botanically pears are a 'pome fruit', along with apples, loquats (small, egg shaped yellow fruit) and quince, grown on average size trees from the Rosacea (Rose) family. They are such a valuable source of food that people would sometimes include the word Perry in place names, to indicate that pears were growing there.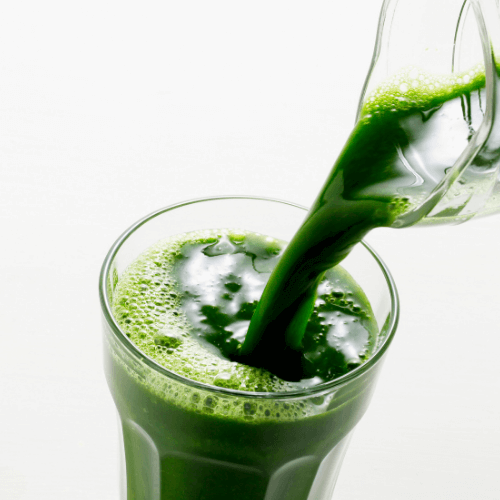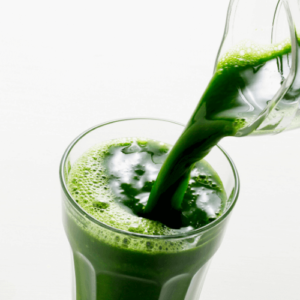 Don't worry if you don't own a juicer – use a blender, and a sieve to strain the juice.
Serving size: makes 1 serving
Ingredients
3 pears ¦ 3 celery sticks ¦ 4 kale (Tuscan cabbage) leaves ¦ large handful of parsley ¦ quarter of a lime – optional
Preparation
1. Wash all ingredients thoroughly ¦ 2. Half and quarter pears ¦ 3. Slice celery in half and again lengthways ¦ 4. Remove tough spine and ribs of kale ¦ 5. Place alternate ingredients into the juicer ¦ 7. Pour into a glass and enjoy, maybe adding a squeeze of fresh lime
Top tips
Leave the skin on your pears for extra fibre
If you have time soak your kale before juicing, it will give a greater yield of juice as soaking breaks down the cell wall in the kale
Leave the tops on your celery, if you don't have parsley use these instead or as well, they are the same family of herbs
Celery is on the dirty dozen list, so please buy organic see www.pbs.org
Happy juicing!
Why are we using these ingredients?
Pears are considered hypo-allergenic, so they're fantastic to give to infants during weaning. Their low acid means they're unlikely to cause digestive problems for little bellies. They're also a good source of boron, which researchers believe may help the body retain calcium and therefore assist in bone health. In addition they contain 10-20mcg (about 5% of the RDA) of folate, the natural form of folic acid so should be included in a prenatal diet.
Celery contains natural compounds called pthalides, which have been shown to lower blood pressure by relaxing the muscles around the arteries and allowing vessels to dilate. The calcium, potassium and magnesium in celery also helps regulate blood pressure.
Kale's high fibre content lowers our cholesterol by binding with bile acids, which the liver produces from cholesterol in order to digest fat. Because many of these bile acids are coupled with fibre, the liver is made to produce more bile acid to digest fat, and therefore requires more cholesterol to do so, ultimately lowering the amount of cholesterol within our bodies.
Pear juice recipe from The Reboot with Joe Juice Diet Book