The run-up to Christmas is often pretty hectic, and finding tempting, healthy easy recipes to give midweek meals a lift can be an extra challenge. This tantalisingly simple recipe from Tesco Real Food ticks so many boxes on paper that we had to give it a try to see if it lived up to expectations.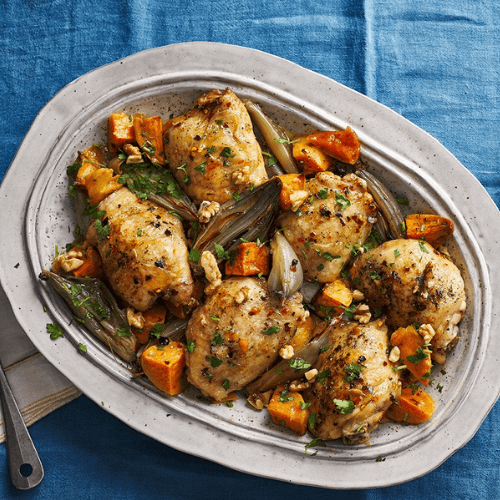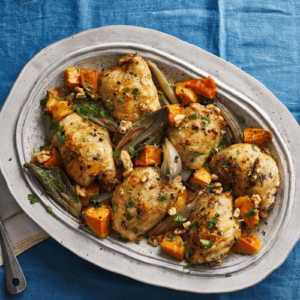 Pros
Family-friendly flavours
Easy preparation
Short cooking time
Readily available, inexpensive ingredients.
One tray cooking = less washing up!
Plenty of vegetables and lean protein
Gluten-free and dairy-free
Easy to increase or reduce amounts
Cons
Fairly small portions
Easy to overcook the broccoli
What we did differently
1. We used tarragon and a herbs de Provence blend instead of rosemary and thyme, as the aniseed sharpness of tarragon goes so beautifully with chicken. We loved the result, but tarragon is very strong and not to everyone's tastes, so perhaps use rosemary and thyme if cooking for fussier children or mixed groups.
2. We opted for sweet smoked paprika, as some of the people eating it didn't have much tolerance for chilli, but if you like a kick of heat then go for the spicy variety.
3. As the chicken thighs came in a pack of eight, we decided to cook them all rather than end up with two odd chicken pieces lingering in the fridge. This addition didn't affect the cooking times at all.
4. We added the lemon pieces to the tray once they had been squeezed over the rest of the ingredients, which helped keep the chicken moist during cooking and added extra flavour.
5. We gave the veg a good few turns during cooking, to prevent the broccoli tips from catching.
6. If cooking this without the chicken, for non meat eaters, you may need to reduce the cooking times slightly and possibly cover the veg with foil towards the end. Use vegetable bullion instead of chicken stock, stick with rosemary and thyme for the herbs, and perhaps crumble some good quality feta cheese over the vegetables once roasted.
Make it easy on yourself…
The quantities in the recipe can be scaled up to feed more people extremely easily. As mentioned, we increased the amount of chicken pieces without issue, but if you significantly increase the amount of veg, don't be tempted to try and fit it all into one tray as the cooking time will be much longer and the vegetables won't roast well. Instead, spread them out over two or more trays and keep cooking times the same.
Instead of portioning the dish out, why not serve it as we did on a large central platter and allow people to help themselves onto side plates?
This makes an ideal winter supper as it is, but if you want to make it more substantial, serve with chunks of wholemeal bread, fresh hummus and a crisp salad, or a bowl of seasoned sticky rice.
Conclusion
It's rare to find a recipe that is healthy, delicious, simple, quick and affordable all in one, but this truly is. To be honest, this recipe was so easy I was suspicious it wouldn't work!
My suspicions were unfounded, however, and it worked brilliantly; the preparation was a breeze, the cooking times were spot on, and the finished product looked appetising and tasted great. This is a great dish to have up your sleeve for feeding unexpected guests over the festive period, and will soon become one of your go-to easy dinner recipes.