A great healthy lunch recipe! Perfect hot with poached eggs or cold with spicy chutney or garlic mayo for a portable lunch, these turnip rosti are incredibly easy, and make use of a very affordable and UK-grown source of vitamin C.
Ingredients for 6 rosti
Two average turnips (approx 250g once peeled)
1 medium free range egg
50g plain flour (we used brown rice flour)
Lots of ground pepper
Pinch of salt
Ground nutmeg to taste
For frying, you'll need a good slosh of cooking oil such as rapeseed, and an optional nob of unsalted butter. Don't use butter by itself, or it will burn at the heat & time required to cook the rosti.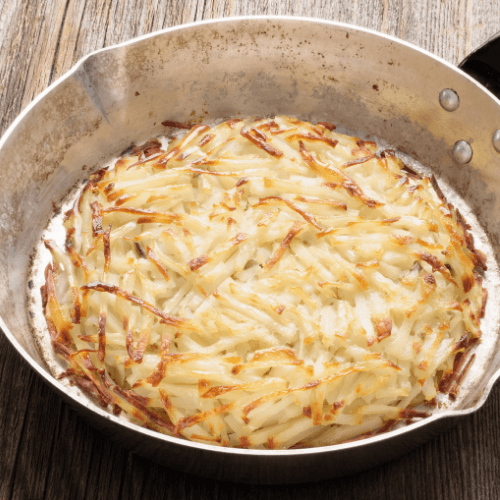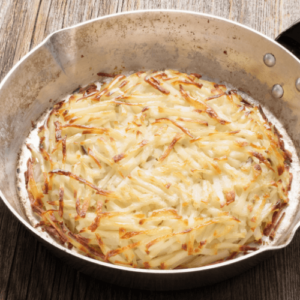 Method
Step one:
Top, tail and peel the turnips, and grate them coarsely. A food processor with a grating attachment is ideal for this, but it doesn't take long to do it by hand. Tip the grated turnip (and any juice you can save) into a big mixing bowl.
Step two:
Put a large frying pan over a medium-high heat, add the oil and optional butter, and find yourself a spatula and a suitable tool for transferring the rosti mix to the pan. Wide tongs are ideal, because they let you scoop and squeeze the mixture in one motion. Lay out a piece of kitchen paper to receive the rosti as they finish cooking.
Step three:
Returning to your bowl, add the egg, using a fork to break the yolk and thoroughly combine until all the turnip is well coated. Stir in the salt, pepper and nutmeg, and finally the flour, stirring until the mixture can be pressed together to form cakes. The flour is left until last because it soaks up the turnip juice, and you want your mix to be moist when it goes into the hot oil. (For the same reason, if you want to double up the mixture, we recommend making one batch after another. It takes a while to fry them, and when we made too much at once, the second half of the mix became too dry to form into rosti.)
Step four:
By now the butter should have melted. Stir it into the oil, and make sure the pan is hot enough by carefully adding a scrap of mixture. You want to hear it sizzle! Scoop up a snooker-ball sized dollop of mixture, squeeze it so forms into a ball, and carefully place it in the hot oil, patting it down firmly so it forms a flattened disc. Repeat to fill your pan, leaving enough space to get the flipper in to turn the rosti.
Cook each rosti for about 6-8 minutes, turning when its bottom is golden-brown and you can turn it over without it falling apart. Once both sides are cooked, remove the rosti to the kitchen paper.
Serving suggestion:
Once cooked, you can either serve them warm with eggs (or whatever else you fancy!), or leave them to cool for packed lunches. They're great with some hot pitta bread and spicy chutney (in the photo, we used homemade rhubarb chutney from Meera Sodha's Fresh India book), or garlic mayonnaise.
Variation:
If 100% turnip is a little too earnest for your tastes, try adding a little grated apple. It balances the root flavour beautifully – much like cooked apple in swede mash, which takes mash to a whole new level.