From Buddha to poke to smoothie, it's fair to say that bowl food is having its moment. The original queen of healthy, customisable bowl food is, of course, a salad… but it doesn't always have the comfort factor of the newcomers.
That's where this recipe for Balsamic Chicken Salad with Lemon Quinoa from Cafe Delites comes in. A fusion of Greek salad and Buddha bowl, it has plenty of different tastes and textures, and just enough bulk from the quinoa to satisfy any carb cravings. And it's perfect if you're looking for healthy lunch ideas!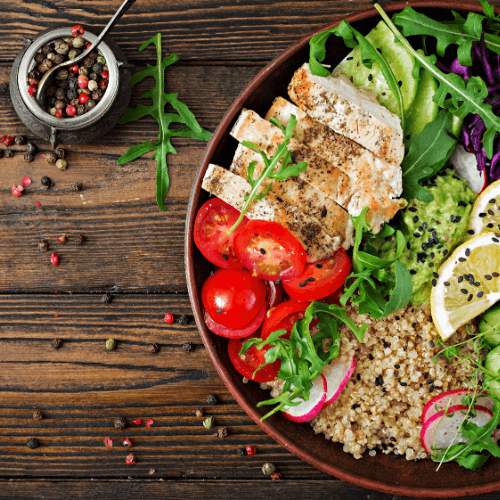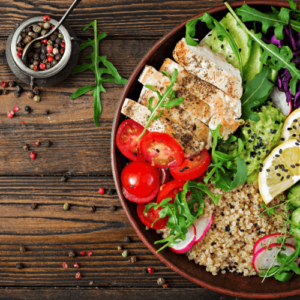 Pros
Quick to prepare
Cheap, readily available ingredients
Totally customisable to your tastes
Plenty of protein
Has the depth and variety of a Buddha bowl without the carb-heavy base
Quick win for getting fussy kids to eat plenty of veg, as they can build their bowl themselves, adding more of their favourites and leaving out what they don't like
Leftovers are lovely as a packed lunch
Easily made gluten-free
This method of cooking the chicken is both simple and really tasty
Cons
The cheese and olive oil do increase the fat content, but if you're looking for a lower-fat meal these can be swapped for alternatives.
What we did differently
1. We added some diced cucumber to create the full Greek salad effect.
2. We used a mix of white, red and black quinoa, which tastes slightly sweeter and nuttier than white alone, and looks pretty too.
3. Although raw red onion is usually milder than white, it can still have a bit of an 'edge'. We quick-pickled our slices of red onion by marinating them in 3-4 tbsp cider vinegar, 2 tsp sugar, 2 tsp lemon juice for a few minutes before draining them and adding them to the top of the salad. This both reduces the metallic taste that the raw onion can leave in your mouth, and enhances its delicate pale pink colour.
4. We gave the dish a little extra crunch with a handful of toasted seeds. We used a ready-made mix of sunflower and pumpkin seeds and green peas.
Make it easy on yourself…
If you are catering for a variety of dietary needs, why not put out all the components in separate dishes and let each person make up their own ideal bowl?
Make a vegan version by swapping the chicken for smoked tofu, and the feta for cubes of creamy avocado or roast sweet potato and a little tamari.
Conclusion
This is the ideal speedy Spring supper, hitting the spot when you fancy something light on the first sunny days of the season, but with enough substance to keep you cosy during the inevitable April showers.