When you want something comforting and effortless for tea, it can be tempting to reach for the ready meals. For a variety of reasons, many of us are trying to avoid prepackaged food – but what about those evenings when your energy has run low and you're bordering on hangry?
We've got the perfect easy dinner recipe for you! This recipe for chicken & egg fried rice from Delicious magazine was ridiculously quick and easy to prepare, and was still absolutely – erm – delicious even when we cheated and used frozen pre-chopped ingredients.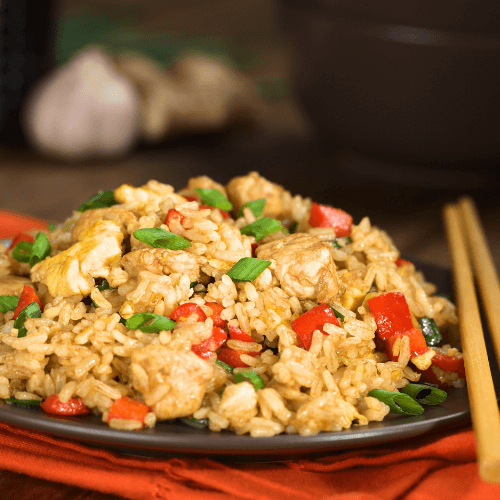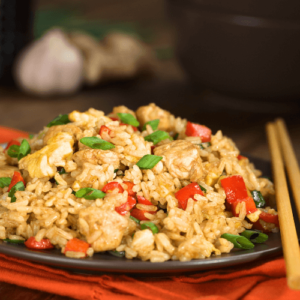 Pros
Super easy, and extremely quick to prepare – especially if you use frozen chopped onions & garlic instead of fresh
Easy to adapt for a vegetarian diet by using Quorn pieces instead of chicken
Gluten free
Absolutely delicious (providing you serve it straight from the wok)
Cons
Very easy to overcook the eggs – don't let yourself get distracted!
Doesn't handle reheating so well – the portion we saved & reheated wasn't nearly as tasty
Unsuitable for freezing, so not a good batch meal option – but is so easy it doesn't really matter
What we did differently
Instead of chicken, we used frozen Quorn pieces, which we cooked for a few minutes longer before the other ingredients went in just to make sure they were up to temperature first
We used brown basmati, which takes a little longer to cook (see tip, below)
Frozen chopped veg and herbs makes healthy-but-delicious weekday suppers a lot more achievable – for this recipe, we used frozen onion, garlic and coriander instead of fresh
We also threw in a handful of frozen peas, because we liked the thought of them, and for extra protein!
Top tips
1. Rice cooking tips: For perfect basmati that isn't sticky, you need to soak and rinse it before cooking. This might sound like a bit too much effort, but it's actually very simple – the hardest part is remembering to do it in advance! And doing this quickly becomes a habit. Put the rice in a bowl and cover it with water – cold if you have half an hour, warm if you have 10 minutes. Once the time is up, stir the rice with your hand until the water goes cloudy. You should then be able to gently tip the water off into the sink without using a sieve, and without the rice falling into the sink, because it's wet and will stick to the bottom of the bowl. If you're feeling thorough, add more water, stir and tip again. Then scrape the rice into a saucepan and proceed to cook as normal.
Coriander: If you're using frozen herbs as garnish, put them in a saucer with a little water from the kettle when you start cooking, so they're at room temp by the time you need them.
Prep: It's always a good idea to read a recipe through before you cook it, but this one is so quick that it's absolutely necessary to do so! Likewise prepping your ingredients in advance.