Turmeric's vivid yellow hue and deep, earthy flavour make it stand out in any dish. It's been credited with a multitude of reported health benefits, is widely used in Ayurvedic practice, and has alleged anti-inflammatory properties which have recently brought it into the Western wellness spotlight.
Whether you're using the dry powdered form or getting to grips with the fresh root (which is becoming ever-more widely available in supermarkets), there are many quick and easy ways to get more of this sunny ingredient into your dinners.
This week's pair of super-speedy recipes from Eating Well magazine take turmeric in two delicious directions. Both have a pleasingly short list of ingredients, simple one-step preparation, and are dairy-free, gluten-free and vegan too.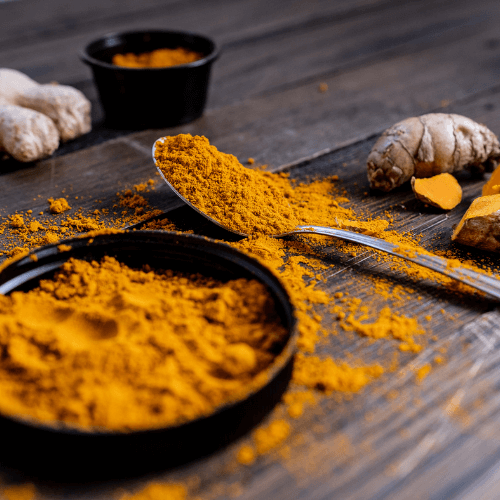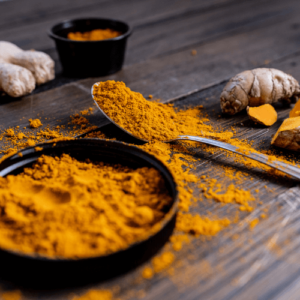 Fresh turmeric latte
Turmeric lattes have become a popular addition to coffee shop menus (despite not containing any coffee!) but if you want to create one at home it can be tricky to know which recipe to pick, as there are so many variations which all produce extremely different drinks. This short and sweet recipe uses fresh turmeric root, combined with fresh ginger, nut milk and maple syrup to create a smooth, creamy drink with plenty of zing!
Pros
Fresh turmeric has an incredible, almost floral aroma which fills the air when it's being grated, and reminded us, rather surprisingly, of the summery scent of a Pimms cocktail with cucumber…
Using the fresh root created a less earthy taste than using the dried form, and there was none of the powdery aftertaste you sometimes get, making a significant and positive difference to the overall flavour.
Cons
Grating the fresh turmeric can be a bit messy, and it will stain your fingertips (and everything else it touches) bright yellow! We recommend using gloves.
What we did differently…
The recipe suggests using either coconut milk or almond. Coconut milk is often very rich and sometimes has an oily quality, giving the finished latte a silky texture which isn't to everyone's taste. We chose to use almond milk instead, which made a pleasant, lighter drink.
Make it easy on yourself…
To save you having to do the messy job of grating the turmeric and ginger twice, make double quantities of the recipe and keep half in the fridge until the following day. When you're ready for your second cup, just give the mixture a quick stir to combine any ingredients, which may have separated, before gently warming it through.
Use the back of a teaspoon to scrape the peel the roots – it's much easier than peeling with a knife or vegetable peeler!
If you have a food processor, use that to grate your roots, freezing any leftovers for next time.
Turmeric, ginger and tahini dip
This punchy, full-flavoured dip makes a refreshing alternative to hummus, or a healthy centrepiece for a plate of crunchy crudités.
Pros
The nuttiness of the tahini blends excellently with the dried turmeric, helping to prevent it tasting powdery in the dip.
The raw ginger and garlic give the dip a real kick, and a proper vitamin boost, too.
Cons
The raw garlic is very strong, so this dip might not be the best snack to eat before you go on a date! You could roast the garlic before adding it to the dip for a mellower version.
What we did differently…
We felt the dip needed an extra lift, so we added 1 tsp of honey which was just enough to give it a more rounded flavour without making it taste sweet.
The dip was very thick, so we added a splash more rice vinegar and water to create a more 'dippable' consistency.
Unless you like a really chunky dip, make sure you use the finest grade on your grater.
We topped it with roasted seeds to add a contrasting crunch.
Make it easy on yourself…
Thinned down with a little more water, this versatile dip is delicious drizzled over stuffed pittas or roasted vegetables.
Try a couple of spoonfuls stirred through freshly cooked soba noodles and thinly-sliced raw vegetables, topped with steamed salmon or marinated tofu.