It's no big secret that too much sugar is bad for our health…
We all know the effects of sugar on health and that too many sweets & fizzy drinks cause some serious problems with our teeth and health – an average can of "full fat" coke contains 9 teaspoons of sugar – but there's increasing publicity about the sugar content of foods and drinks that we take for granted as sugar-free, or even healthy.
With medical insurance providers beginning to reward customers with health insurance premium reductions for switching to healthier lifestyles, we thought it would be helpful to take a look at some everyday items, some of which claim to be "healthy" and "low fat" (remember that the body turns sugar into fat), to see how much added sugar is sneaking into our diets.
Where are these sugars hiding?
We cross-referenced 10 brands of each of these 10 products to find out, on average, how much sugar has been added to them.
| | | | |
| --- | --- | --- | --- |
| Product | Average | Grams of sugar* | % of recommended daily allowance* |
| Bread | per slice | 1.39 | 4.63% |
| Orange juice | per 200ml serving | 17.26 | 57.53% |
| Fat free strawberry yoghurt | per 100g serving | 10.71 | 35.70% |
| Tomato sauce (ketchup) | per 15ml serving | 3.7 | 12.36% |
| Child's ready meal | per meal | 4.98 | 16.60% |
| Baked beans | per 100g serving | 4.05 | 13.50% |
| Tinned tomatoes | per 100g serving | 3.37 | 11.23% |
| Granola | per 45g serving | 11.07 | 36.90% |
| Tomato soup | per 100g serving | 6.17 | 20.57% |
| Child's yogurt | per pot | 9.29 | 30.97% |
*Information gathered from 10 individual brands to then find the average.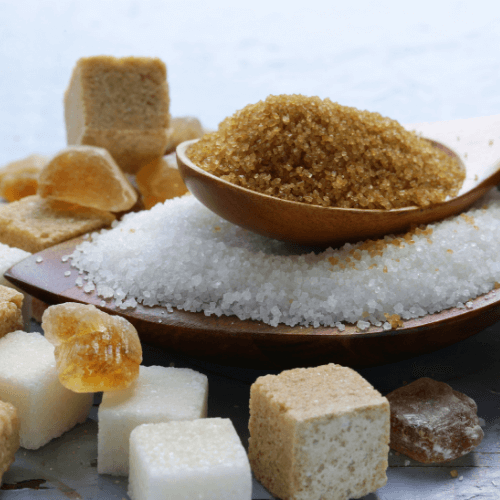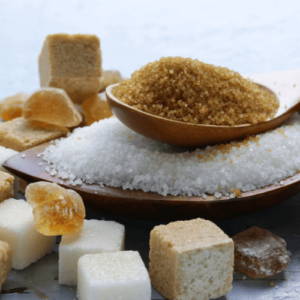 The effects of sugar on health
So why is this bad? What are the high sugar intake risks? What are some of the health concerns linked to high consumption of these types of sugars?
Teeth
Too much sugar in your diet can cause tooth decay, which according to the British Dental Association (BDA) is the number one reason for young children to be admitted to hospital. [1]
Soft drinks with added sugars have high acid levels, which can cause tooth erosion. This occurs when the acid attacks the teeth and dissolves the surface of tooth enamel. If this happens regularly the tooth will become sensitive and painful, in need of a filling or possible extraction. It is important that we care for our teeth from the beginning to prevent enamel loss, keeping our teeth healthy for the long term.
Sugar and weight gain
By cutting out added sugars and switching to healthy sugar options you will lower your calorie intake, helping to maintain a healthy weight. With an increased intake of sugar linked to an increase in weight, it is with no surprise that this brings along its own health risks, such as an increased chance of developing type 2 diabetes. Once you develop diabetes, your body cannot regulate your levels of blood glucose properly. [2]
Heart
Foods and drinks that have added sugar can contribute to an increased risk of dying due to a cardiovascular disease. [3] Studies have shown that having high blood sugar levels can lead to heart disease and failure.
How to swap to a low sugar diet
To put it simply, read the packaging and labels that products come in. Look out for where "sugar" is listed in the ingredients, as these are listed in order of quantity.
Look out for the other names that added sugars hide under, such as dextrose, high fructose corn syrup, invert sugar and more. Click here for a full list of added sugar's secret identities.[4]
Don't be fooled by "low fat" labels – foods that claim to be "low fat" and healthy are often high in sugar, to make up for the lost flavour.
Don't drink all of your fruit. A bottle of orange juice might contain more vitamins than coke, but it actually contains more sugar – you wouldn't eat six oranges in a row, but a glass of juice contains all the sugar of six fruit, meaning a bad time for your teeth! Try to eat your fruit instead, as this way you get more of the goodness – including fibre – without the worry of what it will do to your smile.
If you would like more information on food labels and how to avoid added sugar, click here.
---
All of this information about sugar has been brought to our attention recently and nutrition experts alongside dentists are advising that the government half the current recommended daily intake of sugar.  Mick Armstrong, Chair of the BDA's Principal Executive Committee has started a petition to do just that. You can sign up on the petition here on Change.org.
Sources:
[1] http://bit.ly/bdaorg_half_sugar_intake_and_lift_burden_on_nhs
[2] http://bit.ly/diabetes_org
[3] http://bit.ly/health_sugar_and_your_heart
[4] http://bit.ly/ingredients_and_sugar_disguises
Advice on how to cut added sugar.
http://bit.ly/nhs_ways_to_cut_down_on_sugar
Change.org petition to cut sugar recommended intake by half http://bitly.com/end_sugar_addiction