"
As February approaches and home/work life balance returns to something approaching "normal", how are your resolutions (if any were made!) holding up?
With or without resolution, rest assured that drinking raw juice every day cleanses our bodies from cell to skin – there's just so many benefits of juicing.
This is because vegetables and fruit are 85-95% water enriched with vital nutrients, which can easily travel into our cells via osmosis*. The rest is comprised of health solids like fibre, with no preservatives or additives.
A daily juice packed full of the vitamins and minerals that many of us lack is therefore a great way to help us clean, repair and restore our body for a new year.
You may already be a Green Juice Lover, or perhaps you're wondering what the fuss is about? This recipe offers a chance to find out…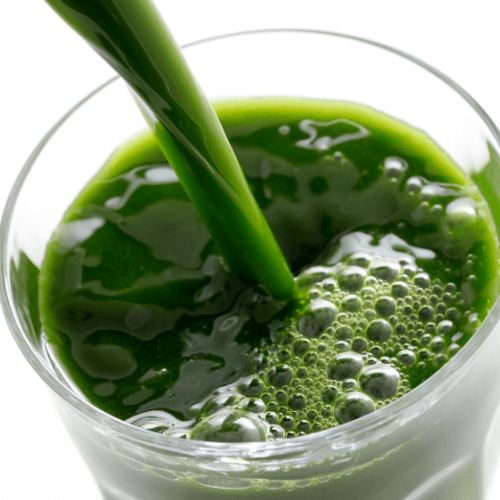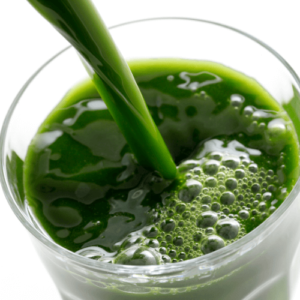 Don't worry if you don't own a juicer – use a blender, and a sieve to strain the juice.
For one serving:
Ingredients
5 large kale leaves or Cavolo Nero leaves (Italian Spinach) ¦ 1 lemon ¦ 1 large apple ¦ 1 inch piece of fresh ginger ¦ 1 sprig of fresh mint
Preparation
1. Wash ingredients well ¦ 2. Remove ribs from leaves and roughly chop ¦ 3. Peel lemon, leaving as much white pith on as possible ¦ 4. Roughly chop apple ¦ 5. Peel ginger ¦ 6. Cut apples into quarters ¦ 7. Remove skin from ginger ¦ 8. Remove mint leaves from stems ¦ 9. Juice all veg and fruit, alternating between different types (or put them into a powerful blender with 1/2 cup of water, then pass the mixture through a fine mesh sieve) ¦ 10. Pour into a glass and enjoy!
Top tips
If you have time, soak your leaves for approximately 20 to 30 minutes prior to juicing; this will soften the cell walls and increase the yield of juice.
White pith has nearly as much Vitamin C content as the flesh.
Juicing the apple whole increases the fibre content in your juice.
Peel the ginger with a teaspoon; you'll just remove the skin.
Happy juicing!
Why are we using these ingredients?
Kale and Cavolo Nero provide ample supplies of iron, fibre, and vitamins A, B, C, E and K. Iron helps to make red blood cells, which are essential for carrying oxygen around the body. Lemons, although acidic, have an alkalizing effect once they're in the body, and help mask the bitter flavour from the kale. Apples contain vitamin C, and add fibre. Fibre is essential, but if you struggle to break it down, juicing can really help, because it removes the insoluble fibre (which can't be absorbed) and retains the soluble fibre, which can. This way we get vital nutrients into our body without making it do a great deal of work, giving it a chance to rest, repair and restore.
* Osmosis is the spontaneous movement of water from a less concentrated solution to a more concentrated solution through a partially permeable membrane.
Recipe from "It's All Good" by Gwyneth Paltrow.