Stress was the second most common cause of long-term sick leave in 2015*. We've also noticed that private health insurance companies have started to reward customers who take steps to reduce stress to a level that doesn't make them unwell. So we've designed our Spa Spotlight series to help you discover the relaxing world of spa living.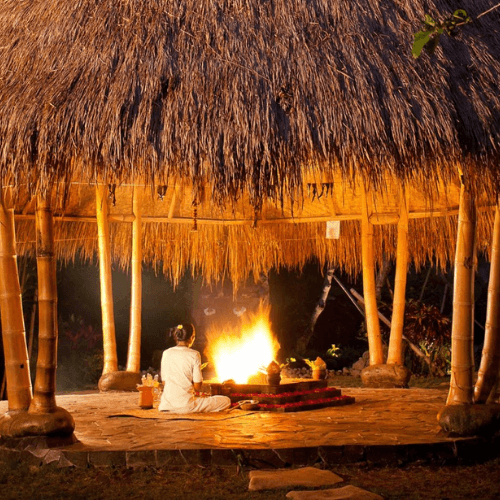 "On first glance, I thought that
Fivelements
– a luxury holistic retreat just outside the Balinese town of Ubud – must be too good to be true.
Many spas claim they don't compromise, yet (beneath the marketing rhetoric) pay little more than lip-service to habitat sustainability, or the local community's well-being. Even their "healthy cuisine" can turn out to contain distinctly unhealthy levels of sugar and alcohol. With sustainable spas and healthy detox retreats being the latest buzz, it's no wonder why some places are trying to jump on that bandwagon.
The Fivelements team talk a lot about creating a genuinely loving environment, helping guests to heal, looking after the locals… and they make a big deal about being able to create delicious meals entirely from plants that haven't been cooked above temperatures that might damage their health-giving properties.
Surely not? I've been working alongside the marketing and PR industry for 15 years now, so my inner "nonsense!" alarm was beginning to flap its wings by the end of the first paragraph.
Cut to the close-up, however, and I discovered a spa retreat that is (mostly – private pools aren't really eco-friendly) doing what it claims – maintaining a beautiful, well-sustained space in a few acres of riverside forest, not far from Ubud, a Balinese town that has been renowned as a centre of healing for thousands of years.
Despite its silly name, the Fivelements' spa treatments are award-winning, and mind-bogglingly diverse, from traditional Balinese massage, to romantic riverside couples' bathing rituals, to a full fortnight of detox retreat. Staff are genuinely welcoming and make honest recommendations, and the food, it turns out, really is delicious and healthy.
I wouldn't go all the way to Bali just to visit one spa, but if you are going on holiday in Indonesia, Fivelements is certainly worth a few nights' stay. If you do go, don't forget that Key Protect offers competitive rates on travel insurance!
Need to know
One thing to note is the resort's riverbank location might not make it very relaxing for parents with small kids.
* Page 18, "Absence Management Annual Survey Report", Chartered Institute of Personnel and Development