Now that the darker, windier Autumn days have begun, you might find yourself reaching for more carb-based comfort foods to tuck into as you snuggle down under a cosy blanket. We're always on the lookout for simple, healthy recipes for meals that are satisfying enough to stave off the chill, while still being packed with flavour and ticking all the boxes for a balanced diet.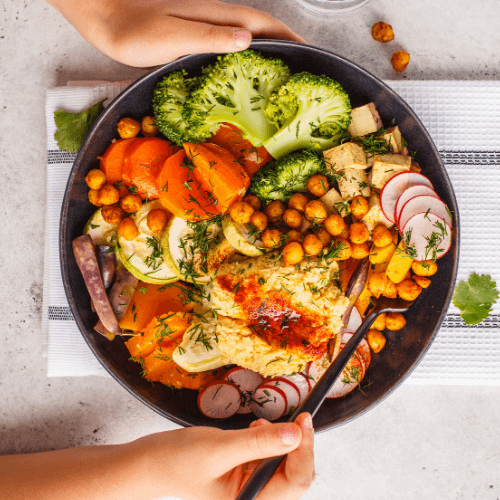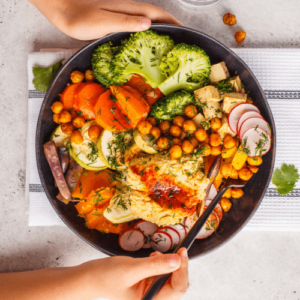 This month's 'try it and see' recipe is Sophie Godwin's Roasted Root and Chickpea Salad from BBC Good Food. 'Salad' is used in the broadest sense for this warm feast of earth-toned Autumn vegetables, zingy spices and buttery chickpeas, and just reading the ingredients list had our mouths watering. It's both vegan and gluten-free, and the minimal preparation makes it perfect for a lazy Sunday supper. It sounds like a great autumn dish so we just had to give it a go!
We love easy meal ideas with a few standout ingredients, and the list for this dish is satisfyingly straightforward.
The seasonal selection of Autumn roots – carrots, butternut squash, beetroot and celeriac – are readily available at this time of year. If the distinctive taste of celeriac isn't your cup of tea, you could easily replace it with more of the other vegetables, or add in a few chunks of Jerusalem artichoke or sweet potato instead. Though carving up several of these large, knobbly veg can seem a bit daunting, all it takes is a sharp knife, a non-slip board, and, occasionally, a little elbow grease!
We opted for largish hunks of vegetables. We cut ours up in about 3cm square chunks, but you could have them slightly smaller if you wish, as long as all the pieces are all a similar size so they cook evenly. The spice blend is the standout addition to this dish: turmeric and cumin for earthy warmth, cinnamon for a hint of Moroccan-style sweetness, and the mellow punch of smoked paprika, coating the roots in a glistening sauce of fiery flecks. Chopping up beetroot can leave you with what Nigella Lawson has, macabrely, referred to as 'a case of the Lady Macbeths' (alarmingly red hands!), so wear rubber gloves if that bothers you.
We didn't bother coating the beetroot in the residual oil. Following the recipe, we left the beetroot separate until the last minute, but rather than coat it in the residual oil, we just added it to the rest of the vegetables and gave everything a cursory stir before transferring the whole lot to two large trays and popping them in the oven.
We swapped red wine vinegar for cider vinegar. For quick-pickling the red onion slices, we used cider vinegar and a dash of balsamic instead of red wine vinegar, which gave them a wonderfully rich edge, and toasted the almonds lightly in the pre-heating oven. We turned the veg twice during roasting, to ensure an even cook, and after a good 45 minutes added the chickpeas and gave them a final blast.
The finished dish looked very pretty on the serving plate. It really is the perfect feast for the eyes, and tasted outstanding. The combination of textures and flavours kept every bite fresh, with astringent onions, crunchy nuts and green herbs to bring contrast to the spicy yet smooth chunks of veg. You could easily bulk it up into a bigger meal with a few vegan sausages, but we were left feeling full and happy after a plate of this with just a scoop of hummus on the side.
Note/tip: Any leftovers are delicious enjoyed cold the next day, and make a filling and healthy lunchbox option.